It's been a long month. A strange month. I've spent a lot of time engaging with some different approaches to change in teaching and learning (the good, the bad and the pragmatic).
Learning is social, collaborative and knowledge creation

The OER16 conference showed the value of a small, dedicated community of practitioners in pushing for change even when there's little to money to support it.
Open data, DS106, Reclaim Hosting, Open Libraries, transparent collaboration between learning communities and IT were all topics of discussion.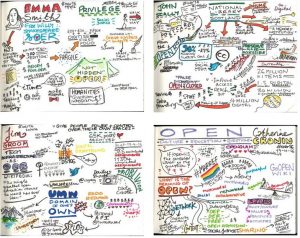 The next week, I followed the events at  another event taking place at Coventry University where Reclaim Hosting, SPLOTs and apparently Science through Creative Dance developed an atmosphere of sharing, collaboration and learning.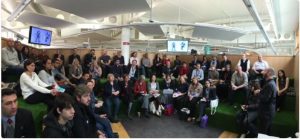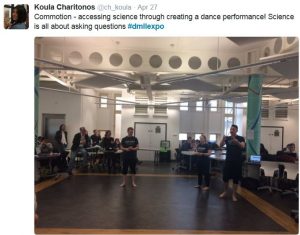 Soon after returning home, I was one of hundreds(?) spontaneously summing up pedagogy in exactly four words. (Massive Open Online  Twitter Hashtags?)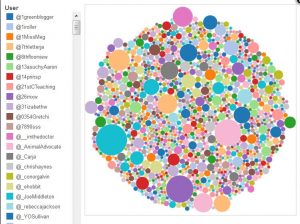 Earlier this week, I watched the launch of the BC ED Tech Collaborative to support ongoing support of open, shared technologies for learning and teaching.

And then there was Tony Hirst's work on using Docker, Python and Jupyter notebooks to do something I don't quite understand yet. I'm hoping that next months FutureLearn course will help 😉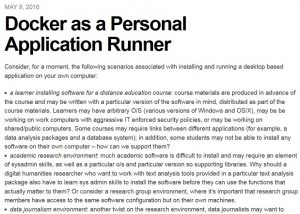 So many different approaches to enhancing teaching and learning. What do they tend to share? They are driven by hopes to advance the values of openness, sharing, collaboration and agency. They are led by folks in the trenches and on the fringes. (did I mention that they tend to be lightly funded.)
Learning is Earning, Research and Recall (?)
At the Learning Analytics and Knowledge conference, I talked to a nice young guy whose job title was Learning and Interoperability Consultant  who commented, "Wow! There is really a lot more to this than coding." It also turns out his good friend is the guy behind "Edublocks." (It turns out that it is only a dream of how great education could be. No plans to implement right now.)
[youtube https://www.youtube.com/watch?v=DcP78cLPGtE]
From there, the conference went through the looking glass into the lands of wearables, biodata and more. One research finding was that "student behaviour is better under vigilance."
Throughout the month, I've been taking an online course called Algorithms Modeling Methods Verification & Validation in which I confirmed what I think  already knew: Algorithms are guesses dressed up in various forms of fancy math.

Yesterday, I accidently wandered into a session showcasing a new automated course development system.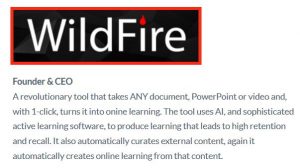 What it was, in fact, was a proprietary computer system that pulled openly available content like YouTube instructional videos articles and Power Points in, used  semantic processing to guess the most important topics and then developed and delivered fill in the blank exercises back to students to complete because education is ensuring students can recall lots and lots of facts.
Ideas driven by math and computer science, driven by funding in the  hopes that technology will serve up some quick fixes.
Learning is set within a complex system

While I was away, we had an accreditation visit that my team had worked hard to prep the documentation for.

The accreditation exercise is a good reminder of the importance of the operational side of education. Complex layers of processes and policies all developed for good reasons that together make up a system geared to offer scaled educational experiences to a large number of students. Like any system, it has its strengths and "opportunities" (I hate this word but my old boss told me no one likes weaknesses). The best way to make them better is to focus on the "opportunities" in ways that don't break the whole system. Here's what that have looked like in my world:
I met with our curriculum development team and gathered a good list of useful things that data would help with that could be summed up by identifying what parts of our courses are students interacting with.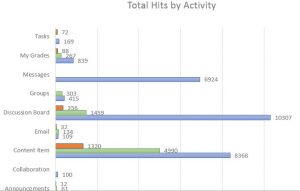 This was followed up on Saturday with a session about instructors and instructional designers using available data to understand and/ or ask more questions about how students are interacting with online course content. Sane uses of data to make teaching and learning incrementally "less bad."
In another Saturday session Carolyn Teare, Troy Welch and Ken Monroe covered our transition to Moodle. Last year I was involved in a session explaining the plan for the move and gathering input. This year, I sat in the back of the room while the folks who will run the system shared that the project is on track and proceeding.
I can't help but think that when my team does our job right, operational and cultural change looks really easy to acheive 🙂
Our move to Moodle is an achievement, but we also hope that it is a step towards a Learning Environment consisting of a collection of loosely connected tools beyond the LMS. I have some hope that xAPI will be a part of that solution. An in depth schooling on xAPI was one of the best things I took away from the LAK conference.
[slideshare id=61326177&doc=duhonjischackathon-160425145035] But its early days. Apparently most of the more advanced work is "bespoke" to meet the specific needs of corporate clients by startups. I can fully understand how this approach is a viable business model that meets needs in the private sector. How we'll make the leap from this to inter-organizational data transferability and public education looks pretty murky at this point. If it moves forward without involvement of  educational folks it's not likely to realize its potential.
At the Saturday PLAR  workshop Christine Wihak and Deborah Marchand explained the good research-based work that results in 800 students receiving the equivalent of 400 FTEs of university credit for their prior learning experience at TRU-OL. A little department with a full-time staff of 2.5 changing what so many are racing, chasing and spending to figure out to do with fancy technologies.

If you want to know what is stopping more of this kind of change, ask the TRU-OL PLAR. I'm pretty sure they'll tell you that the barriers are more related to system, process and policy issues than technological barriers. They'll probably also tell you that no one gets rich doing PLAR and that is just fine with them.